Trolling reels usually referred to as conventional reels are reels designed to be used in offshore trolling. They function the same as baitcasting reels but have stronger drags and greater line capacities. Trolling reels also have large handle spool release levers, star drags and large paddle hands that differentiate them from baitcasting reels. There are many brands of trolling reels out there and choosing the best can be a daunting task. To make things a little bit easier for you, let's dig deeper on the best trolling reels for offshore fishing.
Penn Warfare Level Wind Reel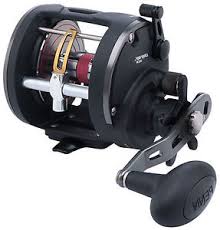 Warfare level wind from Penn is one of the most trusted and most reliable trolling reels in the market today. Penn industry is a household name in the trolling reels industry. Therefore, the warfare reel definitely will not disappoint. It comes with a range of sizes to fit virtually every type of fish whichever the size you are hunting. Don't feel like you are hunting on an expensive reel skimp because Penn manufacturer didn't skimp on the quality. They always considered quality before cost. The Penn warfare reel is greatly designed with smooth finishes that makes it appear expensive. Since you've already paid more on other fishing materials, this reel will save you a lot more. So don't miss out on this quality product.
Features of Penn Warfare Level Wind Reel
— line capacity rings—line capacity rings helps you know how much line is left, therefore, you will not run out of line hence won't lose the fish
— Pinion Gear And Machined Brass – machined brass make the whole equipment light. You can't fish with a heavy reel. It has to be light since offshore fishing requires you to spend several hours in the deep sea
— Instant Anti-Reverse Bearing – this feature doesn't allow the handle to go backward. This is important, especially when setting up the hook.
— Carbon Fiber Drag Washers – carbon drug washers ensures that you have a smooth fishing experience regardless of the pressure exerted by the fish. They use a certain kind of oil to reduce friction and can run for more than 30 miles without any issue.
Pros
— has a large power handle that can be adjusted if you need more power
— Holds a lot of lines – it can hold up to lines of about 150 meters each
— It has a good cranking power
— It has an easy star drag adjustment
— Built-in line indicator rings that shows you how many lines you have used and how much is left
— It has a Heavy-duty cranking handle designed to resist the daily rigors of offshore fishing
Cons
— May have a jumpy line counter
— Initial force may be high at extreme drag ranges
2. Okuma Classic Pro XP Level wind Trolling Reel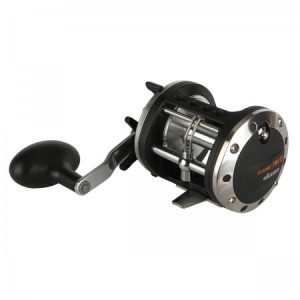 Okuma classic pro XP reel offers performance and dependability. They are built with side plates and a corrosion-resistant lightweight frame together with an anodized aluminum spool for strength and durability. The classic pro XP from Okuma has aluminum power handles that gives a comfortable grip through the ergo grip knobs. It's a great option particularly for bottom fishing because it is strong enough to catch up to 100-pound fish in the deep sea.
Features Okuma Classic Pro XP Level wind Trolling Reel
— Stainless steel gearing and machine cut brass
— Self-lubricating gear system
— Anodized spool and machined aluminum
— Lightweight side plates a corrosion resistant frames
— Disc rubidium drag system
— Stainless steel reel foot that gives the reel the strength it has
Ported graphite frame design
Pros
— Has a smooth drag
— It is relatively cheap – it costs about 40 dollars
— It operates smoothly
— It Is strong enough to handle 100-pound fish
— It maximizes on fuel and ensures you stay out in the sea for longer periods
Cons
— It is only right-handed and left-handed people can find it difficult to use this type of reel.
3. Penn Squall Levelwind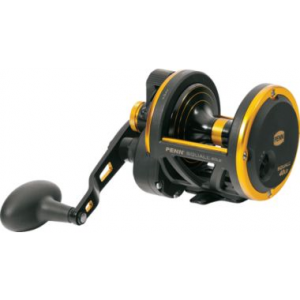 The squall from Penn is almost similar to its predecessor, the warfare reel, but designed to catch smaller fish in deep waters. It, however, has a solid reel in case you hook into something bigger. The Squall Levelwind reel is built with side plates and graphite frames making it cost cheaper while giving it the class of touch it has. The only problem with the squall is that one of its bearings is permanently mounted. If it wears out, you squall is done.
Features of Penn Squall Levelwind
— Switchable lugs
— Silent double-drag anti-reverse
— Stainless steel bearings
— Stainless steel pinion and main gears
— Machined and forged aluminum spool
— Lightweight graphite frame and side plates
Pros
— It is lightweight making it easy to control
— It has a great drag and can hold about 100 pounds of fish
— It is relatively cheap
— It has an easy grip
Cons
— The spools become corroded quickly
— It doesn't hold many lines and won't give you enough time when fishing offshore
4. Fin-Nor Sportfisher Lever-Drag Trolling Fishing Reel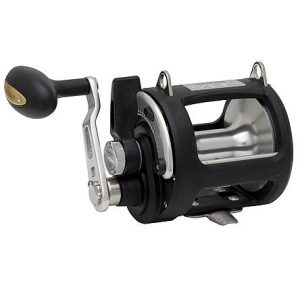 Fin-nor Sportfisher is a common type of reel to most deep-sea fishers. It is a light type of reel but stronger due to the technology used that helps it keep up with the pace with most conventional reels. Fin-nor is one of the new reels in the trolling reel industry and has proven to be better than most trolling reels that have been around for a while. It is a great trolling reel and will give you a one of a kind experience.
Features
— Lighter and durable
— Oversized, heavy-duty carbon fiber drug system forged 1- piece spool
— Solid 1-piece graphite frame
— Lightweight aluminum frame
Pros
— It has a smooth drag
— It has a lightweight aluminum frame that balances with almost all rods
— Its parts can be replaced easily
— Its bearing system makes it a perfect casting reel
Cons
— Its parts wears off quickly
— Its high gear ratio may be ineffective under particular fishing conditions
5. Shimano Tekota 300 Conventional Trolling Reel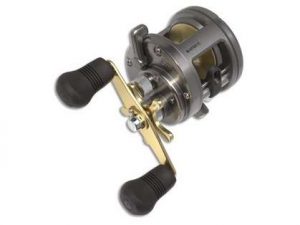 Tekota is a fishing reel produced by Shimano and designed for deep sea fishing as well as freshwater fishing. It can be used with tailored rods for it to be good for a freshwater trolling system. Tekota comes in a variety of size from the Tek-500 that can be held in the palm to the enormous Tek-800. All these have a level wind that makes them perfect for lighter trolling uses. Unlike the common types of reels that are coated in gold or silver, the Tekota reel is coated with grey. Tekota reels feature a die-cast aluminum frame, an aluminum braced graphite on the handle side plate and a stamped aluminum right back. Shimano has put more effort to cover the not-so-good graphite; a name that not many offshore anglers love. Infect it is quite difficult to tell if the handle is made of graphite. In general, Tekota reel is more solid and lighter than most reels of the same size due to the graphite/aluminum combo. The standard Tekota weighs roughs 0.5 kg and is capable of keeping you out in the sea for a longer period.
Features
— Die-cast aluminum frame
— Aluminum Spool
— Rod Clamp
— Super stopper and asset stopper
— Oversized cast control knob
— Aluminum braced graphite non-handle side plate
— Stamped aluminum right side plate
Pros
— can be used both of the sea and in freshwater fishing
— lasts longer due to effective mechanics and durable anodized frames
— It can hold lines of up to 300 ft.
Cons
— It is not suitable for big fishing
— It has several models and can be quite confusing
6. Okuma Coldwater trolling-reel with line counter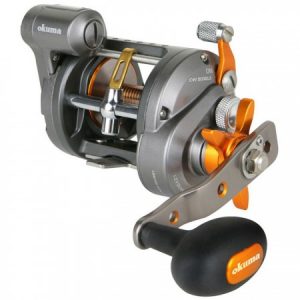 The cold water trolling reel is a special type of trolling from Okuma. This is due to their painstaking attention to detail. It is a type of reel that allows you to catch your desired fish in the most efficient way possible. It is, therefore, the reel you want to go offshore fishing with. It is designed to be lightweight making it easy to hold for longer periods. So if you're intending to go offshore fishing for longer periods, you might want to consider the cold water trolling reel. Almost every component is made with bras ensuring it lasts longer. What's more, the company offers a one year warranty in case it needs repairs or replacements.
Features
— Spool stabilizing system makes the reel durable
— Wider level wind
— Self-lubricating gear system
— Drop down gear box
— Durable pinion gear system and machine cut brass
— Dual anti-reverse system
— Quick set anti-reverse roller bearing
— Stainless steel ball bearing
— Multi-disc Carbonite drag system
Pros
— Has a big winding knob made of rubber that gives you a good feel in the hand
— Has a large line counter that makes it easy to read instantly
— The line counter reset button is more sunken and greatly reduces the chances of an accidental reset
— The star located in the drag system is flat and sensitive making it easy to adjust superbly
— Has a free spool lever that snaps back automatically into wind mode with a tree quarter turn of the handle
Cons
— The gearing system gets noisy when winding
— Has a cheap painting that wears off after some time
7. Penn Warfare Star Drag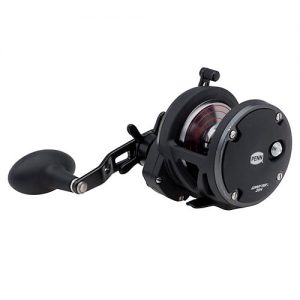 The warfare star drags again from Penn is an outstanding trolling reel due to its unmatched quality. It is a good choice if you are going offshore fishing and looking for standard-sized fish. Since trolling requires you to have enough line if not excess, the warfare star drag is just the perfect type of reel for you. It has a good gear system that makes it easy to have a smooth hunt and also clean line retrievals. It however not good for trophy fish but if it is your first time out in the deep sea, it forms a good starter pack.
Features
— Forged aluminum spool provides the best material to utilize lines available.
— Brass main and pinion gear that makes the whole equipment cheaper while protecting it from rust often experienced when deep sea fishing
— HT-100 drag washers usually made of carbon and ensure the reel is lighter and provides a consistent drag resistance and a smooth release.
— Anti-reverse bearing that helps the reel to stop the pool from reversing.
Pros
— Has a very smooth drag
— It fits comfortably in your hand
— Its anti-reverse roller bearing work well
— The cold water reel is light and its multi-disk drag works perfectly
— It has a solid reel
Cons
— Gets noisy especially when filed with line
8. Avet MXL 6/4 2-Speed Reels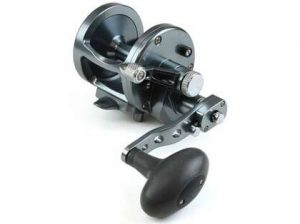 The Avet 6/4 reel is a double-speed offshore lever drag reel designed for big fishing. It features an inconstant rear gear with a ratio control of 3.2:1 as its lowest speed and 6.3:1 as its highest speed. This combination delivers the pace needed for jigs and irons and the power required to be strong when the fish is larger. The engineering of the Avet 6/4 is to be fancy. It is constructed with minimal aluminum frame necessary for strength to catch the big fish in the ocean. The anodized finish ensures the reel is corrosion resistant when it comes to contact with salt water. Free spooling and casting with the Avet 6/4 trolling reel is smooth to use due to its large parts that use eight stainless gears, ball bearing, and the precision machine.
Features
— Stainless steel ball bearings
— Pure it has type 2 anodized aluminum frames
Pros
–It has a stronger design and larger capacity compared to the other forms of reels
–has a lever drag control system
— Has a larger line capacity – it can take up to 20 lines of 40 yards
Cons
— lacks a crossbar making trolling difficult in a deep sea
Conclusion
There are different kinds of trolling reels for offshore fishing in the market currently. It is important that you find a trolling reel that you can easily afford while giving you maximum performance. Most of these reels are built with the latest technology to make your fishing easier. Some are designed to be lighter while still has the capacity to catch the heaviest fish in the sea – giving you enough control. From the list above, you can easily choose the reel that can work best for you in relation to the options they have.