Fishing is never a bad idea. If the weather conditions permit you then you must plan for a fishing trip. Fishing is considered as one of the most enjoyable activities. Be it with friends, family or even alone, things always turn out great with the sight of a big fish caught in your rod. For personal joy or commercial benefits, fishing has been a choice of lively spirits for quite long. Be it a red fish, cat fish, smallmouth bass, trout or any other fish once you set your foot on the boat in the mid of a river or at the bank of a lank with a camp set aside your stereotypical fisherman becomes alive. Make sure that you know how to generate fun. No doubt catching a fish with a friend motivating you is a fun filled memory but remember it is equally tiring as well. Gear up yourself with the best of the tactics.
Now if you become a bit specific and particularly loo for smallmouth bass then the idea of fishing gets even better. Why? Well, it is about scoring. You can get any other fish but smallmouth bass requires strong nerves and guts. Want to enjoy the mild taste of tender yet firm meat of smallmouth bass? Then let's show you how to earn some points.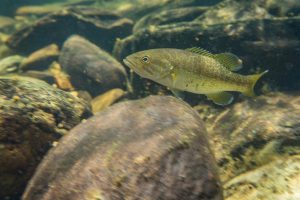 Before we begin, better to have some information about the target:
The name of smallmouth bass varies from place to place. If you have heard bronze back, brown bass, brownie, smallie, bronze bass, bareback bass, red eye and green trout then yes every time you heard about smallmouth bass. Smallmouth bass, often nicknamed as smallies, are not very difficult to find. They are a major goal of fishing when discussed in America.
Where to catch smallmouth bass? As I mentioned before, smallmouth bass are not difficult to locate. They are almost found everywhere when looked carefully. Since, you are out fishing there is minimum margin to be absent minded or feel carefree. Best places to catch smallmouth bass are lakes, rivers and streams with calm water. They usually prefer staying hidden among the rocks deep in water. They are considered as 'shy' species therefore rocky, sandy and places with aqua vegetation must be looked for. Smallmouth bass are only found in fresh water bodies therefore don't waste your time experimenting in salty waters. A thorough research about the habitat and location of a particular fish is important. Otherwise, you will return home catching only misery.
How do I identify smallmouth bass? Smallmouth bass are generally found in different shapes, sizes and appearances. It varies from habitat to habitat. If you catch a smallmouth bass in Canada don't expect it to be same in America. Even a smallmouth bass caught in lake is relatively larger in size than those in rivers. The smallmouth bass living in rivers have dirty brown color which sometimes gives a reflection of moss or moldy green. Overall, they appear green. However, those smallmouth bass which live in lakes have light colors varying from golden to yellow. These fish have a snout with big bulging black eyes. Their weight and size depends on the gender as well. Males are relatively shorter than the females. Females weight up to three to six pounds. Whereas, males are recorded to have 2 pounds. Therefore, you don't need to get mixed up with their appearances.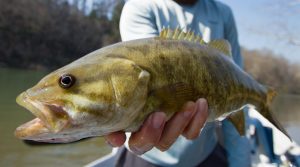 Smallmouth bass tackle and baits: This is one of the most important parts of fishing. Choosing the correct bait matters a lot. Majority of fishermen act unwisely by choosing the inappropriate bait. Since, you have specified your catch then pick the bait accordingly. Don't try something new. Consult regular fishermen to get an idea about the favorites of smallmouth bass fish. Smallmouth bass are not easy to catch. Why? Because they are always hidden in the rocky under waters. Bringing them to the surface is always tacky. Smallmouth bass lures are available in a variety. From different colors to different patterns and sizes they are available at all fishing shops. Smallmouth bass bait needs to be catchy. In fact, for fishing one has to have attractive bait. Smallmouth bass can also test your patience. They are moody creatures with swinging taste levels. They might reject your bait therefore you need to have a variety of them with you. Never depend on a single type of bait when it comes to smallmouth bass. From artificial to alive ones you must have them all. Opt for spider-like, soft plastic grubs, jerk baits, plastic worms and lightening lures are found attractive by them. As far as living baits are concerned small fish pieces, crabs, minnows, shrimps, crayfish, nightcrawlers are the best options. How to experience smooth fishing day? To have a day full of excitement and enjoyment you must follow the correct pathway. Fishing is certainly not about leaving your home with a fishing rod and a tray of lures or baits. In fact it is a sophisticated port where tricks, techniques and presence of mind work the most. Following are some most important quick reminders and FAQs for you to follow when fishing smallmouth bass. In case of neglecting them you will be at loss for sure.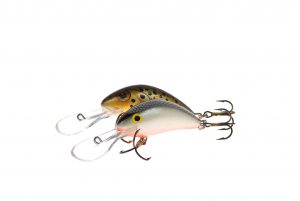 What is the best time to go fishing?

 

Spring.
Which fishing rod should I use? Weight and size of fish matters the most. It is better to use a spin cast reel as it is easy to control.
Do they get hooked to the bait easily? No. They are very moody foodies. You need to change the lures after a period of sitting. Jigs, crankbits, shrimps and crabs do the work.
Does stamina matter? Of course! Imagine catching a 12 pound female smallmouth bass. You need to apply your full force. How about calling a partner?
Can I fish anywhere? Well, yes and no both. Do not forget to take a permit from the authorities. You would not want to eat an illegal catch.
Need ideas to celebrate the catch? The feeling of having a smallmouth bass in your hand is an indescribable feeling. The sense of achievement is somewhere high in the sky. Let's not forget that you need to celebrate it as well. After showing off your catch in front of everyone dig for recipes you would want to taste. Eat it the way you want after all it is all yours. Grill it, BBQ it, stew it, bake it, fry it or roast it. You can have rice, vegetables, soup or different dips with it to make it taste more delicious. The taste is going to be heavenly!
Enjoy!